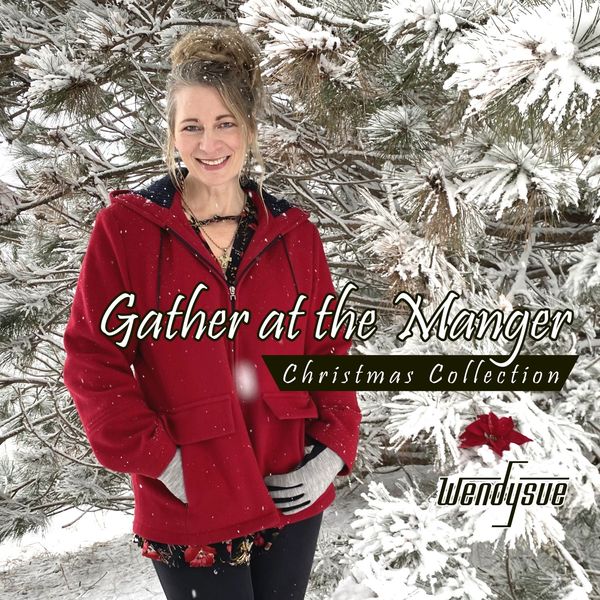 MY FIRST CHRISTMAS COLLECTION!
New Christmas collected releases late October, 2023!  
Favorite classics (with some really fun spins on arrangements) and some originals:  
O Holy Night,  What Child is This,  Joy to the World, Silent Night/Peace Peace, Gather at the Manger, Go Tell it on the Mountain, Mary Did you Know, While We Wait, December Song, Gather (Deconstructed)
Pre-order on the store page using the 'Christmas Pre-order' item.  Drop as much or as little into the 'price' spot. **Indicate if you'd like more than 1 CD (or the digital download rather than a physical CD).  Donations of $50 or more receive an additional gift that's being created just for you along with your copy by mail in October.   Thank you for your partnership and support.  Please pray that I'll honor our Jesus through the entire process! 
Wendysue's beautiful piano/string prayer ballad asking God's healing for lives stolen thru gun violence and abortion.
Read more…
Everyday Christian
Wendysue
Original songs of everyday life; Full band instrumentation; Contemporary style with touches of blues, rock, pop and country.
Read more…
0:00/3:28

0:00/4:17

0:00/2:34

0:00/5:15

0:00/3:43

0:00/4:09

0:00/3:17

0:00/5:55

0:00/3:12

0:00/4:27

0:00/3:32
Add my music to your playlists and find me at these other sites.  Click the buttons below!
A mix of favorite praise songs in a contemporary style and Wendysue's newest originals - plus a bonus track of a recent national anthem live from Miller Park!
Read more…
0:00/3:24

0:00/3:15

0:00/4:38

0:00/3:52

0:00/4:22

0:00/1:43

0:00/4:34

0:00/5:44

0:00/4:30
Favorite Hymns
Wendysue Fluegge
Digital option only Download
For the lover of traditional hymns, this collection of the great hymns of faith contains very simple piano arrangements combined with Wendysue's pure soaring vocals.
Read more…
0:00/4:17

0:00/4:22

0:00/4:44

0:00/4:41

0:00/5:46

0:00/5:26

0:00/4:15

0:00/3:47

0:00/4:12

0:00/3:59

0:00/4:09

0:00/4:32