Stage Expressions is my originally designed kids musical theater camp!   
It all began in 2018 with our first summer week at Mount Mary auditorium in my village.  An energetic chaotic week with 24 amazing kids, and I've been hooked since.  My staff are teenagers with fresh ideas, talents and dramatic experience, and we bring on an intern to learn the ropes while guiding those younger.  It's a wonderfully intergenerational design that evolves as we go!
2020 found us in my backyard for an outdoor free air adventure, thought we prefer to take residence on a stage with lights and sound.   Together, we explore all things dramatic including acting, singing, dancing, props/staging, audition and rehearsal tips, with a parent performance on the last day of class.   I locate, adapt and write scripts from movies, stories, history, and my own ideas.  *Light reading is very helpful and line memorization required.   I bring n a few interns each year to gain valuable educational fun hands-on experience.   
2023 finds us expanded to a few locations, including a pilot of our our first after school spring camp program!  
Register your child with the form below.  Upon completion, you should be directed to my store page for the final step of payment.  I'm looking forward to working with your amazing actor soon!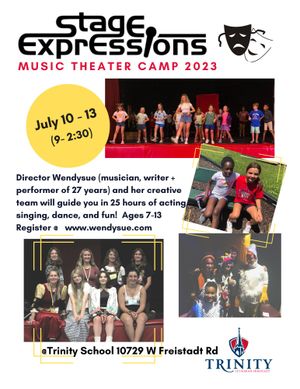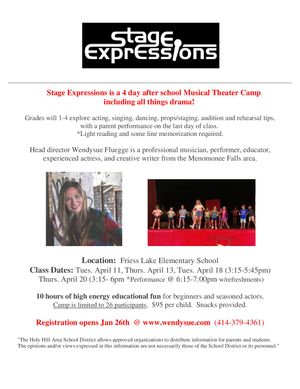 First partnership with CYT (Christian Youth Theater) head directing "Newsies"! 
We enjoyed a weekend of successful performances at the South Milwaukee PAC!   CYT offers theater and music classes all year plus 3 full shows.  Check them out HERE  (cytchicago.org)
---------------------------------------------------